Re-Blogged from:
ProFootballSpot.com
It's not often that a team adds their top rusher and top receiver in the same offseason, but that's exactly what the Baltimore Ravens did in 2014. The 2015 offseason calls for spots to be filled at; corner, wide receiver, tight end, safety and running back.
We're going to look at the best value for those positions. Unfortunately, DeMarco Murray won't be on this list. We're not strolling down the proverbial Rodeo Drive of NFL Free Agency––we're bargain shopping.
1. Corner
Realistically, corner could be need no. 1, 2 and 3. The Ravens will return
LarDarius Webb
(if he's not waived) and
Jimmy Smith
, who is coming off an ACL injury. Webb and Smith are solid guys, but those are some major question marks.
Fortunately for the Ravens, the corner market is deep. Guys like Brandon Flowers, Byron Maxwell or Kareem Jackson would be nice to add, but the best value lies further down on the list of available corners with
Walter Thurmond III
.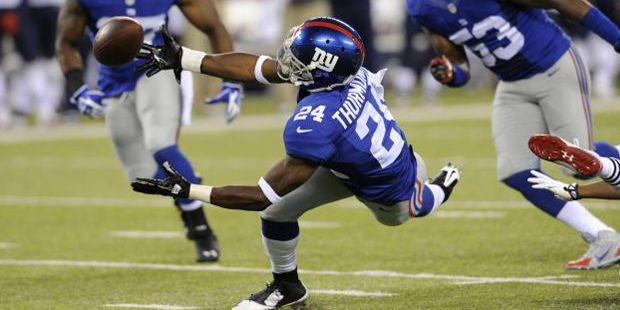 From
ChatSports.com
Thurmond played two weeks for the New York Giants in 2014 and went down with a torn pectoral muscle. That doesn't have the sound of a guy who will change the fate of the Ravens, but let's not forget that Thurmond was once the third corner for a Seattle Seahawks defense that boasted Richard Sherman and Brandon Browner.
Thurmond makes a great fit for the Ravens because he can play outside or in the slot. If Smith and Webb are healthy, then Thurmond would be right at home covering slot receivers.
ProFootballFocus.com
has Thurmond ranked as the no. 73 free agent in 2015.
2. Wide Receiver
It'd be nice to get Torrey Smith back at a manageable dollar figure, but until then the Ravens are holding their breath with an aging Steve Smith as the only viable receiving option entering 2015. New offensive coordinator Marc Trestman has experience with some big body receivers from his time with the Chicago Bears and the Ravens could use a big red zone target.
The best value here lies with
Kenny Britt
, who is listed at 6' 3" and 223 lbs.
From
Yahoo.com
Britt had a solid rebound year in 2014. Even with the revolving door the St. Louis Rams had at the quarterback position, Britt as able to grab 48 catches for 748 yards and three touchdowns. While the touchdown number is low for a guy of his stature, one must remember it's the Rams we're talking about. Britt and Brian Quick were the only wide receivers to have more than one TD.
Britt is ranked no. 61 on
ProFootballFocus.com
list of 2015 free agents.
3. Tight End
Last offseason Owen Daniels followed offensive coordinator Gary Kubiak to Baltimore. Conventional logic says Daniels could do the same this season and wind up in Denver. Meanwhile, Dennis Pitta is rehabbing from another injury. It's well documented that Joe Flacco loves Pitta, but that doesn't matter if he's in sweatpants on the sideline. The best value here is with Washington Redskins'
Niles Paul
.
From
Redskins.com
After having 14 receptions in his previous three seasons Paul burst onto the scene with 39 receptions for 507 yards in 2014. That was with Robert Griffin III, Kirk Cousins and Colt McCoy at the helm for a Redskins' offense that a kind person would call inept.
Paul started the season with four consecutive weeks over 60 receiving yards. His action tailed off with the return of Jordan Reed in Week 6. The Redskins will probably look to bring Paul back, but they have a litany of other needs to address.
The kicker is that Paul is only 25 years old and could be the tight end of the future for the Ravens at a pretty decent rate.
A viable alternative would be Denver Broncos' Virgil Green. He was primarily a blocking tight end because of Denver's smorgasbord of receiving options, but upon entering the NFL his draft profile on
NFL.com
read, "Green's an undersized, athletic, pass-catching tight end / H-back with big-play potential who doesn't bring much to the table as a blocker."
Sounds like he'll be quite a player.
ProFootballFocus.com
has Green ranked at no. 71 and Paul isn't ranked in the top 75 of available free agents.
4. Safety
Ravens' safety Will Hill needs a partner. Safeties Darian Stewart and Matt Elam didn't provide much other than disappointment in 2014.
ESPN.com
's Ravens Reporter Jamison Hensley has discussed the possibility of Hill recruiting former Giants teammate Antrel Rolle to join the Ravens.
Rolle would be a nice addition, but the best value lies with Kansas City Chiefs safety
Ron Parker
.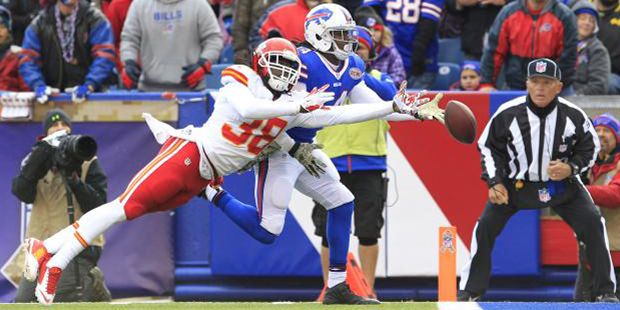 From Bill Wippert / Associated Press via
BleacherReport.com
Parker had 20 combined tackles in five seasons with four different teams before 2014. Then 2014 happened and he showed up week after week to accumulate 94 tackles. He's a converted corner, who got comfortable playing inside for the Chiefs last year.
CBSSports.com
's Pete Prisco tabbed Parker as one of his five free agents to watch, saying:
Count me as a believer in his ability to be a long-­term starter at safety, whether free or strong safety… He has also started at corner and did a nice job last season against Buffalo's Sammy Watkins. He has also become a better player in the run game, which is key for a corner moving inside. At 6­-feet, 210 pounds, he is big enough to handle tight ends, which he was asked to do a bunch.
Sounds like a perfect player for the Ravens to grab. He plays the run game well, can cover tight ends and has experience at corner if the need arises. He is not ranked on
ProFootballFocus.com
's top 75 free agents.
5. Running Back
Seriously, the Ravens struck gold with
Justin Forsett
in 2014. And with Forsett hitting free agency they'll have to do it again. So, why not just resign Forsett and hope that lightning can strike the same place twice?
The Ravens love Forsett and he probably still presents the greatest value. There are productivity concerns with Kubiak gone, but Forsett offers something off the field that not many can. He serves as a mentor for younger backs, which the Ravens may add in the NFL Draft.
Ravens' general manager Ozzie Newsome had this to say per Aaron Wilson of the
Baltimore Sun
, "We would like to retain Justin, but I've learned something since the end of the season about Justin that I didn't really know. He has mentored some very good, young backs, starting with Arian Foster, Marshawn Lynch, Maurice Jones-Drew when he was in Jacksonville."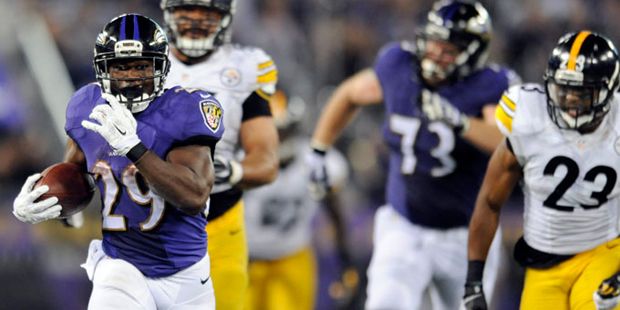 From
RussellStreetReport.com
Plus, he was the Ravens team MVP last season. Forsett will be 30 years old in October and with just one breakout season he won't exactly have teams clamoring over him. Although the Atlanta Falcons have expressed interest via
ESPN.com
's Vaughn McClure.
Sure, the Ravens will have to pony up more than they did last season, but Forsett is worth it. He's ranked no. 43 on
ProFootballFocus.com
's free agent list.
If the price for Forsett is too high look for the Ravens to poach another aging star from the Carolina Panthers––DeAngelo Williams. Williams could come cheaply. Plus, at this point in his career he's probably looking for another run at the playoffs. Williams seems like a good locker room guy, who would help mentor young backs as well.
The Ravens have some definite needs at these positions and others. Needs that will be addressed through free agency and the NFL Draft. Adding a few value guys off this list could make all the difference for the 2015 Baltimore Ravens.
Cameron Clow is a journalist dedicated to the Baltimore Ravens for Pro Football

Spot.You

can follow him on twitter
@camclow
.